Custom Fabrication
We handle all the needs of your tank or custom fabrication projects, from assessment and design to fabrication and delivery.
We begin by working with you to assess your needs and develop the very best plan to meet those needs efficiently. From there, our on-staff engineer designs a CAD drawing and provides exact material specs. These renderings will be yours to keep for any future needs. Once the design is approved, we begin the fabrication.
The entire fabrication process for your project is done in-house by AWS Certified Welders. And we have an arsenal of unique equipment, so we're prepared to meet all of your project's challenges.
Tanks
We manufacture liquid and dry storage tanks with the highest quality carbon, stainless steel, and aluminum. We offer completely custom shop tanks, bins, silos, UL 142 tanks, hoppers, and bag houses that we design to meet your needs. Sizes range from 5′ to 16′, and we can incorporate many different materials or accessories.
We've developed a turn-key operation with in-house engineering, and we'll see your project from start to finish. Our steel processing and manufacturing facility use CNC plasma tables, plate rollers, and innovative tools. And we can deliver from our tank building facility via truck, river access, and rail, all located on our 92-acre property in Owensboro, Kentucky. Additionally, we install with our cranes, mobile equipment, and crews for field installation.
Our priority is building quality, competitively-priced tanks on time, every time. Ready to start talking about your next project? Contact us here.
Engineering
Our on-staff engineer is equipped with the software and capabilities to handle any custom job. From structural analysis, drawing, and drafting, we are prepared to tackle any project.
Rely on us for Tanks, Pressure Vessels, Hoppers, Silos/Bins, Structures, Platforms, Stairways, Ladders & Handrails, Manufacturing Support Equipment, Lifting Equipment, Bulk Material Conveying Systems, and Machinery.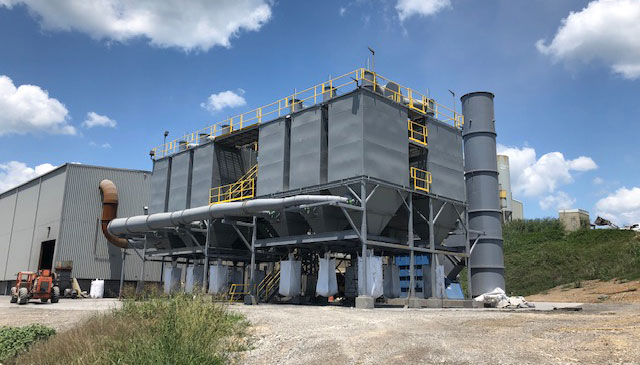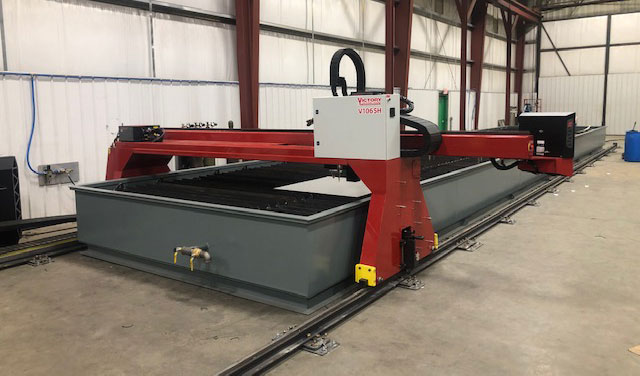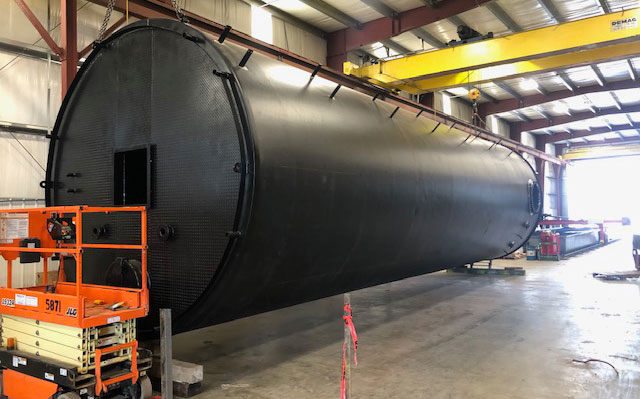 Major Equipment:
Three 10 Ton Bridge Cranes
One 5 Ton Bridge Crane
One 3 Ton Bridge Crane
Mobile Cranes
Forklifts & Telehandlers
Personnel Boom Lifts & Scissor Lifts
Plasma Table
Waterjet Table
Press Brake
Shear
Ironworker
Band Saws
Plate Roll
Turn Rolls
Welding Capabilities:
Materials:

Carbon Steel
Stainless Steel
Aluminum

Welding Equipment/Processes:

SMAW – Shielded Metal Arc Welding
GMAW – Gas Metal Arc Welding
GTAW – Gas Tungsten Arc Welding
FCAW – Flux-Cored Arc Welding
SAW – Submerged Arc Welding
Certified Welders:
AWS – American Welding Society
Pressure Vessels / Certifications:
ASME (American Society of Mechanical Engineers) – U Stamp – Manufacturer of Pressure Vessels
National Board of Boiler and Pressure Vessel Inspectors – R Stamp – Pressure Vessel Repairs and Alterations